September 2023
How To Safely Share Passwords With Employees
If you ask a security professional, you get by-the book advice about sharing passwords: "Don't share passwords." But we know, in reality, that doesn't work. Your office might be sharing a single password for apps like SurveyMonkey right now to save cash on buying additional users, and some social media accounts don't even give you the option to have multiple log-ins. Sharing passwords in your office is sometimes necessary for collaboration, and the best way to do this is by using a password manager. Affordable (some platforms even offer free versions), layered with security and simple to use, password managers are the safest and easiest way to store and share your company's private passwords.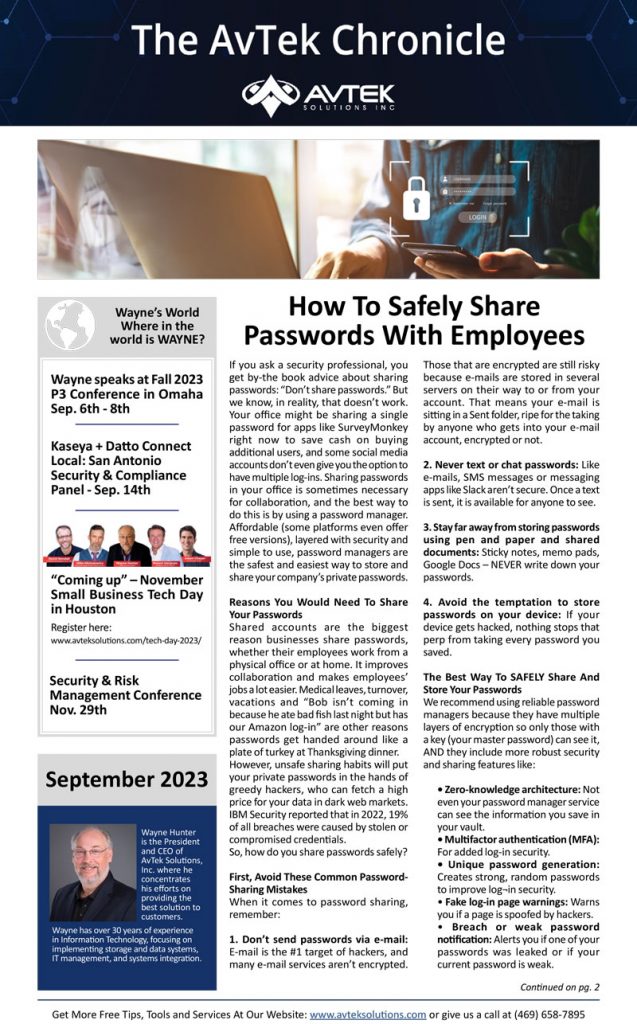 August 2023
Start The School Year Strong - Parental Tech Tips To Ensure Academic Excellence
In the coming weeks, kids from around the country will return to school to continue their academic journey. It's an exciting time in their lives, and many begin the school year with high hopes and expectations. Do you remember how enthusiastic (or disappointed) you were when the first day of a new school year arrived? Now that we're parents, we can put specific strategies and techniques in place to help our children find success when school resumes.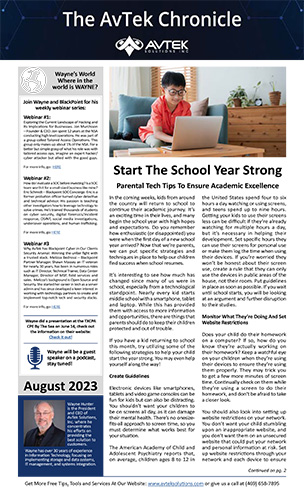 July 2023
Don't Settle For Less - 5 Questions Every IT Professional Should Say Yes To
Business owners have a wide variety of responsibilities. In many cases, they oversee the hiring process, ensure operations run smoothly and find the best third-party vendors to help benefit their business for years to come. One problem many business owners face when hiring a third party is knowing whether they're the right fit for their business. Making the wrong choice can be detrimental to your business, so how can you ensure you make the right decision? You ask essential questions.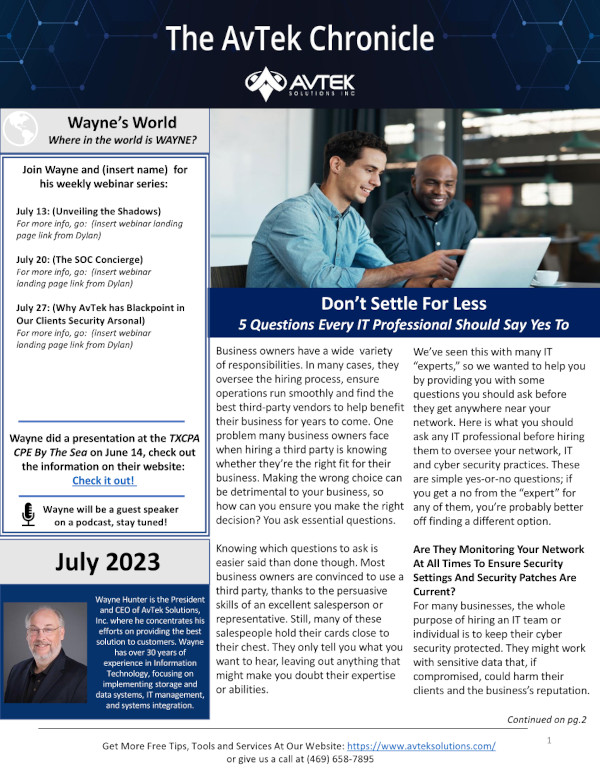 June 2023
Help Your Business Thrive
Over the past few years, awareness about IT services has significantly increased. Businesses of varying sizes recognize the need for and importance of utilizing IT services to protect sensitive data, keep day-to-day operations running smoothly, increase productivity throughout various departments and stay up-to-date with the most recent technology trends. Without IT services, companies put themselves and their clients at risk. So, if you're looking to add these kinds of services to your business – or need an update – you may wonder what your options are.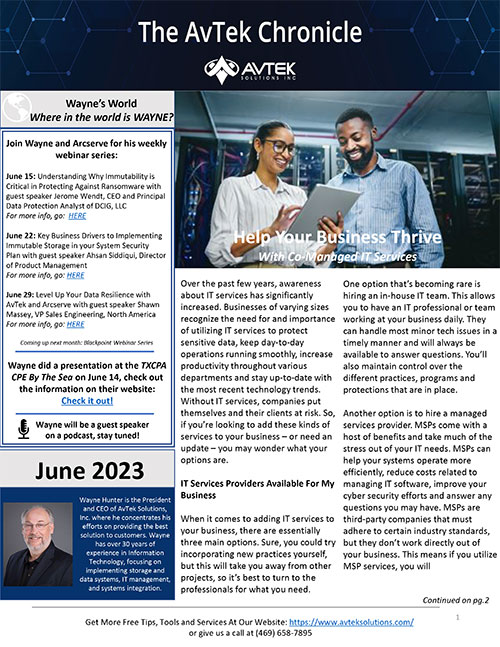 May 2023
Get More Done In Less Time
Technology has become essential to our society. We use it for nearly every aspect of our lives, from entertainment to personal security. Unfortunately, it's not all good, and over time, many of us have developed some negative tech habits. When we're supposed to work or stay productive, we might turn to our phones or tablets and scroll through social media or the news. There's no better time than the present to shake these harmful habits so we can become more productive. The good news is that technology can actually help improve our overall productivity. The pandemic forced many of us to start working remotely or in a hybrid environment, which makes it even more important for us to use technology to stay focused and productive. Technology does not have to be a distraction: it can help us stay on task and achieve our goals. Below, you'll find a few ways to use technology to improve productivity.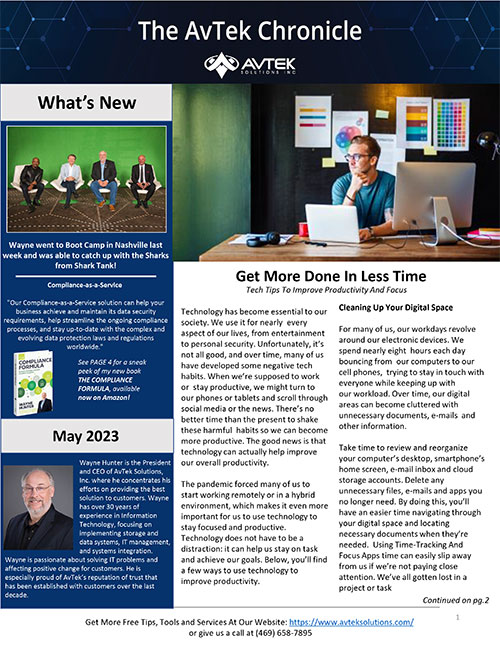 April 2023
Keep Your Business Protected By Becoming Aware Of The Most Common Types Of Cyber-Attacks
The rate of cyber-attacks has significantly increased over the past few years. Businesses of all sizes are at risk of becoming victims of them, which is why it's crucial that every business owner and leader is aware of the most common cyberthreats impacting the business world today. Being aware of common cyberthreats and developing plans to prevent them is the best way to protect your business, customers and employees from cybercriminals.
These criminals' tactics will improve as technology continues advancing, but cyber security defenses will as well. Knowing exactly what you're up against with cyber-attacks and creating the proper safeguards will protect your business. If you're new to the idea of cyber security or need an update on the common threats that could impact your business, we've got you covered. Below, you will find the most common types of cyber-attacks out there and how to protect your business from them.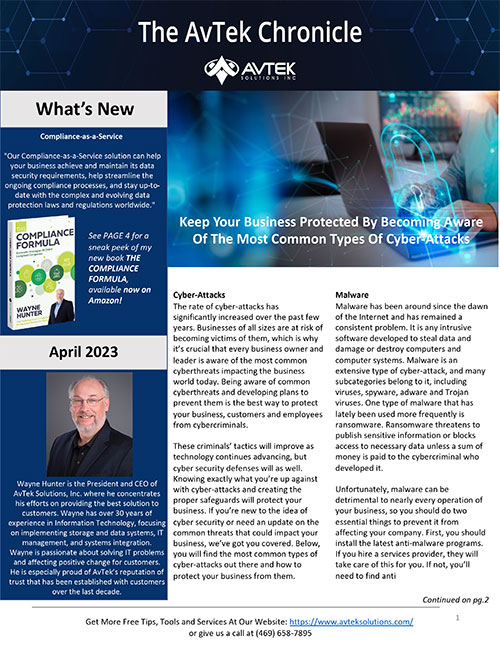 March 2023
Understanding Cyber Security Compliance Standards
There is an endless number of things a business owner should do for their business to be successful. They must develop a product or service that can attract customers, hire and train a team to oversee day-to-day operations, implement marketing strategies and so much more. While all these tasks are essential for your business to be profitable, your business will never get off the ground if you aren't compliant with standards that affect your industry.
Compliance standards are guidelines or rules that organizations must follow to meet legal, regulatory or industry requirements. These standards are designed to ensure organizations ethically conduct business – by protecting the rights and interests of their customers, employees and other stakeholders. When an organization does not maintain its compliance standards, it will be met with fines, legal action and other penalties.
Many compliance standards that apply to most organizations involve sensitive information protection. Here are a few examples.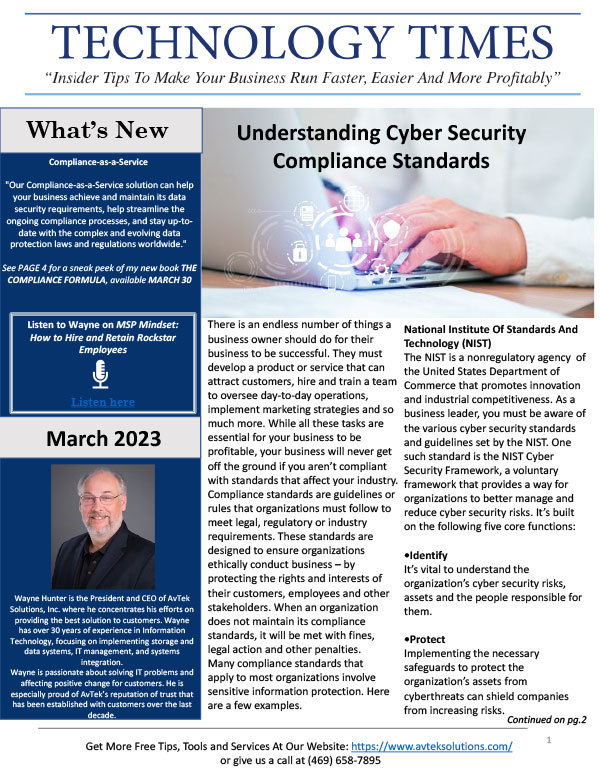 February 2023
Add An Extra Layer Of Cyber Security Protection By Utilizing Cyber Insurance
Establishing effective and efficient cyber security policies is one of the
most important aspects of protecting your business. We often discuss why cyber security is so important and the different cyber security practices your business can implement. We also mention how advanced cyberthreats and cyber-attacks have become as hackers improve their tactics and technology. For this reason, you may wonder if there's anything that will cover your business if it falls victim to a cyber-attack even though you have strong cybersecurity practices in place. Thankfully, cyber insurance is available to business owners who have proven they take cyber security seriously.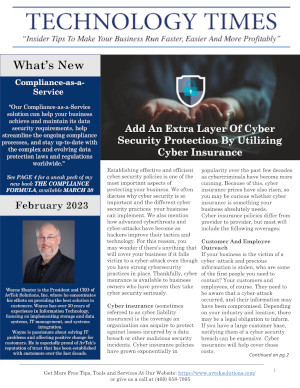 January  2023
Prepare Your Business For A Successful 2023 With These 3 New Year's Tech Resolutions
If you don't have goals for 2023, there's no better time than the first month of the year to make them. Whether you want to increase sales, customer loyalty or another essential key performance indicator, you must be intentional about your resolutions. If you keep it vague, you probably won't achieve your goals, so you need to be specific and start small. From there, you can build on your foundation until you've reached your objective.
Thankfully, there are some great tech resolutions you can implement to help your business accomplish its yearly goals.