FREE Executive Webinar:
"The Evolving State of the Cyber Landscape"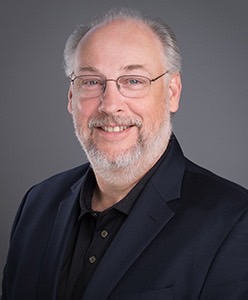 Wayne Hunter
Co-Founder & CEO
Webinar Details:
LIVE: Thursday, January 19, 2023
Start Time: 1:00 PM CT
During This Webinar You'll Discover:
The scary risks of mobile and cloud computing – and three critical policies, procedures and protections EVERY business must have in place NOW to protect themselves; overlook even one and you're exposing yourself to security breaches, damaging and expensive litigation, employment lawsuits and having confidential company information exposed to competitors, hackers and cyber criminals.
The #1 security threat to your business that anti-virus, firewalls and other security protocols are defenseless to.
A SHOCKING truth about bank fraud that most businesses don't know about that could (literally) wipe out your bank account.
Why firewalls and anti-virus software give you a false sense of security – and what it REALLY takes to protect your organization against new threats and today's sophisticated cybercrime rings.
Who Should Attend?
C-Level executives and managers who are concerned about: lost or stolen devices, privacy of confidential information, employment litigation introduced when employees use personal devices to access company data and State and Federal laws that carry heavy fines for lost or stolen data. This is of particular importance for those organizations that handle ANY sensitive data such as credit card and financial information, medical records (or serve clients who have medical records) or who simply want to avoid having their bank account wiped out due to a cyber-attack.
Giveaway
We will send a copy of both Mark Sangster and Wayne Hunter books to anyone that books a discovery call and the call is attended.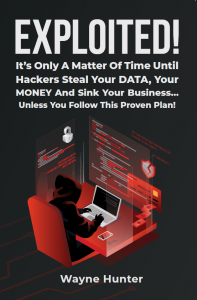 Exploited: At any moment, your business could go from thriving to barely surviving! That's because cybercriminals today stop at nothing to target businesses JUST LIKE YOURS. Even if you THINK your network and private data are safe, hackers are plotting their next malware attack that could cost you massive time, considerable money and even your best clients.
Fortunately for you, this cyber security book presents the critical information you need today to protect your business, your assets and your livelihood from cybercrime!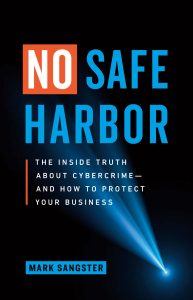 Safe Harbor: Cybersecurity expert Mark Sangster deftly weaves together real-life cases in a thrilling narrative that illustrates the human complexities behind the scenes that can lead to companies throwing their digital front doors open to criminals. Within a security context, deep social engineering is the newest and biggest means of breaching our systems. Sangster shows readers that cybersecurity is not an IT problem to solve―it is a business risk to manage. Organizations need to shift the security discussion away from technology gates alone toward a focus on leadership, team behaviors, and mutual support. Sangster punctuates his eye-opening narratives with sets of questions businesspeople at all levels need to ask themselves, facts they need to know, and principles they need to follow to keep their companies secure.
Register By Completing
The Form Below:
Meet Your Presenters: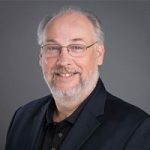 Wayne Hunter
CEO, AvTek Solutions, Inc
Wayne Hunter is the President and CEO of AvTek Solutions, Inc. where he concentrates his efforts on providing the best solution to customers. Wayne has over 30 years of experience in Information Technology, focusing on implementing storage and data systems, IT management, and systems integration.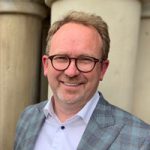 Mark Sangster
Chief of Strategy, Adlumin
Mark Sangster is the author of No Safe Harbor: The Inside Truth About Cybercrime and How to Protect Your Business. He is an award-winning speaker at international conferences and prestigious stages including the Harvard Law School and RSA Conference. Mark has appeared on CNN News Hour to provide expert opinion on international cybercrime issues and is a go-to subject matter expert for leading publications and media outlets including the Wall Street Journal and Forbes when covering major data breach events.